Contemporary Catalan cuisine based on local fresh products
---
Tresmacarrons practices a regional and seasonal cuisine, organizing with the producers the product calendars, to build a constantly changing menu. Thus, a kitchen is prepared governed by the sea (in front of our restaurant), by the mountains (Sierra Litoral) and by the orchards that surround us.
---
Tresmacarrons is part of the Biosphere quality program. We are committed to being more sustainable and effective so that we can protect the environment and the world that we live in as much as possible.
We are feeling more and more involved in the cause, and the pandemic has, in fact, accelerated our will to contribute further. That's why we have decided to change our printed menus into digital ones, which are more sustainable and effective when working.
We are also currently making our own craftworks and homemade products, which were once supplied by different providers. For instance, we have our own set of ceramic plates and bowls and we are also making our own bread. Furthermore, we consume green energy and we are a member of an energetic cooperative which promotes and executes different green projects. Apart from this, we keep recycling all the waste that we generate in the restaurant on a daily basis.
So as the saying goes: Every cloud has a silver lining
We are already adding, are you?
The best wines
to accompany each dish
At Tresmacarrons we make an exhaustive selection of the best wines from different D.O. both Catalan and national and international.
---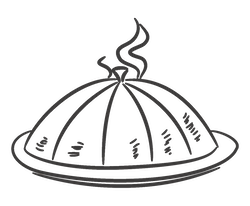 ---
Shrimps with 'ajoblanco' .
---
Artichokes with 'botifarra negra' (Catalan blood sausage).
---
---
Grilled tuna belly with tender garlic.
---
Cannelloni of roasted local chicken and morels cream.
---
Fed-milk lamb with tender onion.
---
Selection of local Catalan cheese.